Traditional Services
Tung Wah Group of Hospitals organizes the Autumn Sacrificial Rites at Man Mo Temple to pray for the prosperity of Hong Kong
Board Members of Tung Wah Group of Hospitals (TWGHs), Consul-Generals, local dignitaries, senior government officials and guests gathered at the Man Mo Temple on Hollywood Road in Sheung Wan to attend the annual Autumn Sacrificial Rites at noon on 23 October 2014.
Mr. LAI Sze Nuen, BBS, JP, Chairman of TWGHs (1969/1970), accompanied by Mr. Ivan SZE, Chairman of TWGHs, and other Board Members, officiated at the ceremony and performed the rites, while Dr. CHOW Chun Kay, Stephen, SBS, JP, Member of the Advisory Board cum Chairman of TWGHs (2001/2002), read the sacrificial odes and Mr. YU Shiu Tin, Paul, BBS, MBE, JP, Member of the Advisory Board cum Chairman of TWGHs (1988/1989), acted as the Master of Ceremonies. The official party dressed in traditional Chinese robes to show their respect to the ceremony.
The temple, situated on Hollywood Road, is the largest one of its kind in Hong Kong. It is assumed that the temple was originally built in 1847. The Autumn Sacrificial Rites is an annual event organized by the Tung Wah Group of Hospitals to pay homage to the two Gods "Man Ti" (the Civil God) and "Mo Ti" (the Martial God), and to invoke peace and prosperity for the people of Hong Kong. The practice arose from the Chinese tradition of offering thanks-giving to God for an abundant harvest. Having imperative historical and cultural values to the territory, the government announced that the Antiquities Authority declared the Man Mo Temple Compound as monument under the Antiquities and Monuments Ordinance in November, 2010.
TWGHs's Autumn Sacrificial Rites at Man Mo Temple is included in the first inventory of intangible cultural heritage (ICH) of Hong Kong announced by The Leisure and Cultural Services Department in June 2014, which enhances Autumn Sacrificial Rites under a better safeguard.
Among the distinguished guests were officials from Education Bureau, Consul-General, as well as members of the Chinese Temples Committee. Also paying homage in the event included Chairman Mr. Ivan SZE, Vice-Chairmen Ms. Maisy HO, Mrs. Katherine MA, Dr. LEE Yuk Lun, JP, Mr. Vinci WONG, Mr. Sunny TAN, Directors Ms. Mandy TANG, Ms. Renee HUNG, Mr. John WONG, Mr. Gabriel AU, Ms. Stella FUNG, Dr. Ken TSOI, Mr. Fred MA, Miss Ginny MAN, Mr. Jeffrey LIU, Mr. Philip MA, Mr. Jason Joseph LEE, Mr. YEUNG Ka Shing, Mr. Lawrence CHU, Mr. York TSENG and Chief Executive Mr. Stephen NG.
- END -

For media enquiries, please contact Corporate Communications Branch, at 2859 7482.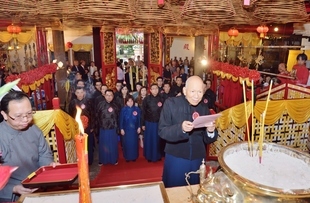 Accompanied by the Board of Directors of Tung Wah Group of Hospitals, Mr. LAI Sze Nuen, BBS, JP, Chairman of TWGHs (1969/1970)(front), performed the rites.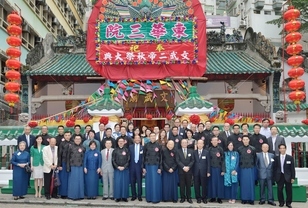 Board Members of TWGHs and guests gathered for a group photo in front of Man Mo Temple.