District Services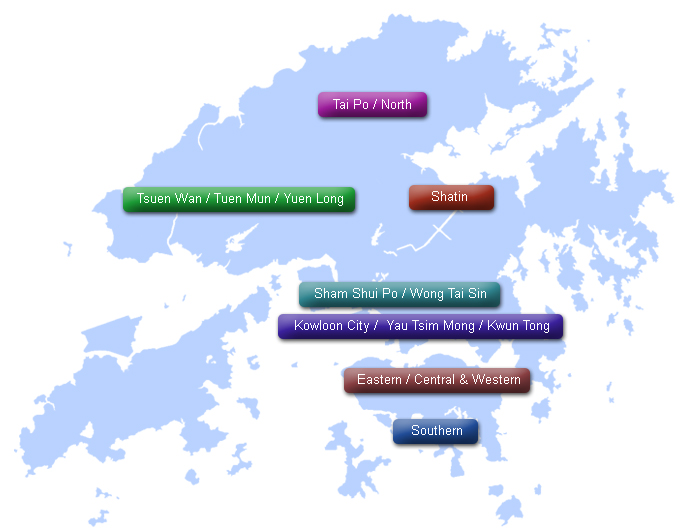 Southern
The Southern District, with an area of about 4,000 hectares, covers nearly half of the Hong Kong Island. We have two service complexes here, namely Jockey Club Rehabilitation Complex and Wong Chuk Hang Complex, providing rehabilitation and elderly services. Apart from that, there are 8 service centers delivering other kinds of service, making a total of 39 service centres in the District.
Eastern/ Central & Western
The Eastern, Central & Western Districts are one of the districts in Hong Kong with the most ageing population. TW operates 46 service centres here and services are comprehensive and varied, including elderly, youth and family, rehabilitation, the traditional services and social enterprise. Among which, Fong Shu Chuen Social Services Building located in Shaukeiwan is a multi-service building which includes 9 service centres ; Superior Fit Wellness Centre (formerly known as Ko Wong Mo Ching Memorial Holistic Healthcare Center cum AJR Charitable Foundation Rehabilitation Clinic) in North Point, which is the first of its kind in Hong Kong, provides community rehabilitation; the Sai Ying Pun Market Fresh Fish Merchants' Association Alzheimer's Community Support Centre is the first centre of TW providing specialized dementia care service ; and the Multi-media production social enterprise –Image Pro, all aiming at providing quality service for residents of these districts.
Kowloon City / Yau Tsim Mong / Kwun Tong
Located in the centre of Hong Kong, Kowloon City, Yau Tsim Mong and Kwun Tong are one of the most developed districts. We operate 42 service centres here, including Wong Cho Tong Social Services Building. Most of our traditional service centres, a total of 8, are also situated in this district.
Sham Shui Po / Wong Tai Sin
To provide comprehensive community support services to frail elderly and low income group in these districts, Yu Mak Yuen Integrated Services Centre and Ling Sui Ying Centre were established in 2004 and 2005 ; Chan Feng Men Ling Day Care Centre for the Elderly, Pearl Lodge Residential Care Home for the Elderly and Chan Un Chan Third Age Volunteers Centre cum Community Kitchen were also established in 2012 and 2015 respectively. Wong Tai Sin Fortune-telling and Oblation Arcade that is a tourist attention, renders worshipping convenience to the public, it is also under our management. We have now a total of 10 service centres in the District.
Shatin
With its rapid urbanization in the past 40 years, Shatin has been developed into a new town with a population of 620,000. Pacing the development of Shatin, Tung Wah has also been serving the area for more than 35 years. Our Ma Hing Chou Home for the Elderly, being our first elderly home operated in public housing estate, was established in 1976. We have now a total of 10 service centres in the district.
Tai Po / North
The Tai Po / North District, with an area of 28,700 hectares, is the largest geographical area among the districts we serve. Our 8 service centres provide elderly residential services and community care services for needy elders. The largest Complex in Hong Kong, the Shuen Wan Complex for the Elderly provides quality care services to 649 residents.
Tsuen Wan / Tuen Mun / Yuen Long
We operate 14 service centers in the western New Territories, including Tai Tung Pui Social Service Building in Tuen Mun. Family problems in Tin Shui Wai have always been a social concern in recent years. Our Jockey Club Tin Shui Wai Integrated Services Center has started serving the district since 2007 in response to community needs.