Lo Wong Yuk Man Nursing Home
Round-the-clock nursing service
Registered nurses are responsible for monitoring residents' health care needs. Clinical assessment and general nursing care e.g. administering medications, wound dressing, and body checkup are conducted for the routine care.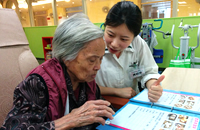 Medical care
Visiting Medical Officers pay regular visits to residents and day care users for medical consultation. Medical appointments at hospitals and clinics are arranged when necessary.
Personal care services
Trained care workers take care of residents' personal hygiene and assist the elders to perform daily activities like feeding, bathing and toileting.
Rehabilitation programme
Registered physiotherapist and occupational therapist would conduct assessment and tailor-made treatments for individual resident in order to maintain their physical functioning at a satisfactory level of state.
Dementia care service provided by social workers and therapists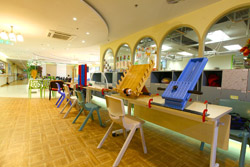 Counselling service
Professional social worker is responsible for rendering counselling service to residents with emotional and personal problems.
Social and recreational activities
A variety of social and recreational activities are arranged to residents, e.g. volunteer groups, birthday party, outings and festival celebrations, to enable them to lead an abundant life.
Therapeutic groups
Different kinds of therapeutic groups are designed to cater for the needs of residents.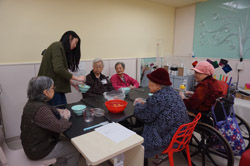 Nutrition and special diet
Menus are designed by dietitians to ensure the provision of balanced diets. Our Home provides breakfast, lunch, dinner and night snack daily in order to ensure the provision of balanced diets.