Jockey Club Intergenerational Art Centre
Art groups and workshops
Organizing centre-based or outreaching art workshops and groups for demented elders, their carers and youth volunteers. The programmes provide cognitive training to demented elders and enhance mutual understanding among elders, carers and youth.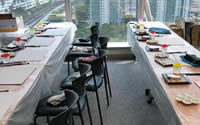 Casework
Rendering casework for individual demented elder, including needs assessment, formulation and implementation of treatment plan with concerted effort from different professionals like occupational therapist, social worker and art development officer.



Volunteer trainings and services
Organizing volunteer trainings to young people which enable them to expand understanding towards elderly, to establish positive life value, and to promote intergenerational communication and inclusion. Talented and committed volunteers can be trained as mentors or assistants in training and community education.
Community promotions on art intervention
Organizing various intergenerational art programmes in the community including educational talks, carnivals and exhibitions, etc.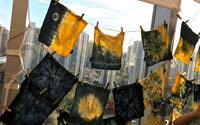 Staff Trainings
Organizing professional trainings for staff from social service units to promote the use of art intervention to demented elders and carers.