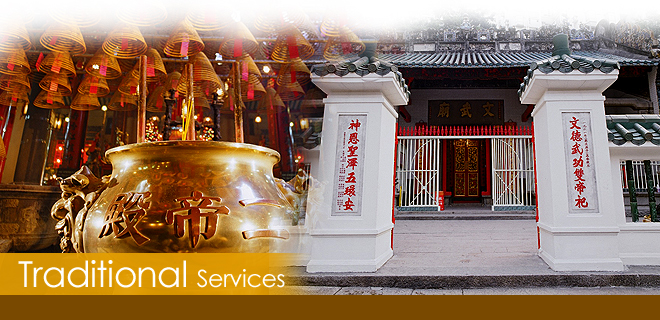 Mission
Tung Wah aims to provide quality traditional services to meet the aspirations of worshippers and the traditional needs of the local community through 3 main streams of services: funeral services, ritualistic services and coffin home services. All revenues generated from the management of 18 traditional service centres are used for supporting the charitable services of Tung Wah.
Funeral Services
Funeral parlours are operated to provide quality services to the bereaved families at a reasonable price;

Hotline enquiry services on telephone number 2303 1234 is provided for the public;

Introductory seminars on funeral services are organized to help the public especially elderly to understand funeral arrangements;

Free services and low priced service packages are provided to cater to the needs of the underprivileged;

Iron burners for paper offerings are available for hire.
Ritualistic Services
Temples, fortune-telling and oblation arcade are managed to render worshipping convenience to the public, and generate operating revenues to finance charitable projects for the community;

A commemoration hall is operated to provide longevity reservation for the living and ancestral plaques for the late. Funds generated are used for supporting Tung Wah's free community services.
Coffin Home Services
Temporary repository for coffins and bones awaiting transfer to other places is provided for both overseas Chinese and local residents;

Niches accommodation services are provided for the public at the columbarium and commemoration niches in coffin home.

Rental of Commemoration Niches and Year round Coil Incense for Lunar Calendar Day 1 / Day 15 were lately implemented.