Rehabilitation Services
TWGHs 'VRehab Generation' Project and Research Saring cum Hong Kong VR Rehabilitation Game Design Competition 2020
TWGHs and Logistics and Supply Chain MultiTech R&D Centre Limited (LSCM) successfully applied a sum of $3,352,770 from the Innovation and Technology Fund for Better Living (FBL) of Innovation and Technology Bureau in 2018 and launched a 3-year project called 'VRehab Generation'. With the collaboration with the Department of Industrial and Manufacturing Systems Engineering and the School of Nursing, The Hong Kong University, a set of virtual reality (VR) rehabilitation training programme kit was developed for elders and people with disabilities (PWDs), while an evaluation study was also conducted. 'VRehab Generation' Project and Research Sharing cum Hong Kong VR Rehabilitation Game Design Competition 2020 was held on 5 March 2021.
The VR programmes developed under the Project include physical training, cognitive training, community living skills training and relaxation. The VR training programme kit provides a close-to-reality training environment, which allows service users to break through their physical and environmental constraints, and to participate in rehabilitation training regarding to their progress purposefully and continuously in an enjoyable way.
Until now, the Project has served 60 service units and over 17,000 attendances, including special schools, day training centres for people with intellectual disabilities, vocational training centres, residential services for elderly and people with intellectual disabilities, elderly centres, hospitals, etc.
For the evaluation study, 135 service users were recruited. In terms of health assessment, statistically significant improvement in upper-limb dexterity and cognitive function. The study also demonstrated that a universal set of VR training was feasible and acceptable for local elders and PWDs, as 88 out of 135 participants of the study provided positive comments.
Besides, in order to arouse the public concern about the needs of elders and PWDs, and to promote sustainable development on the VR application in rehabilitation, a competition called Hong Kong VR Rehabilitation Game Design Competition 2020 was launched and was opened for students and the general public. The competition results are as below:
The winners of Junior Secondary Division:
Champion – Christian Alliance SW Chan Memorial College
1st Runner-up – Ho Dao College (Sponsored by Sik Sik Yuen)
2nd Runner-up – Daughters of Mary Help of Christians Siu Ming Catholic Secondary School
The winners of Senior Secondary Division:
Champion – Man Kwan Pak Kau College
1st Runner-up – Po Leung Kuk Yao Ling Sun College
2nd Runner-up – Sheng Kung Hui St. Mary's Church Mok Hing Yiu College
The winner of Open Division:
Champion – Team of Cheng Lee, Pang Wing Yan Jasman, Chan Hon Sum and Lee Oi Lam
The participating teams were enthusiastic, and the entries provided many innovative and interesting ideas for future development in VR rehabilitation training, which were worthy of reference. It is hoped that virtual reality technology will be more widely applied in elderly and rehabilitative services that the elders and PWDs can have more choices in their rehabilitative journey.
Since its establishment in 1870, TWGHs has been all along upholding its mission "To heal the sick and to relieve the distressed; to care for the elderly and to rehabilitate the disabled; to promote education and to nurture the youngsters; and to raise the infant and to guide the youth." Nowadays, TWGHs is the largest charitable organisation with the longest history in Hong Kong. For one and a half centuries, TWGHs has persistently pioneered and marked significant milestones in medical and health, education and community services, to fulfill the needs of the society and to provide the public with high quality services at low rates or for free. Today, TWGHs operates 343 services units, including 5 hospitals and 34 Chinese and Western medicine services units, 57 education services units, 225 community services units that cover elderly, youth and family, rehabilitation, social enterprises and social innovation services, 2 records and heritage service units, namely, Tung Wah Museum and TWGHs Maisy Ho Archives and Relics Centre that aim to protect and preserve local traditional culture, as well as 20 traditional service units, offering funeral and burial services, and temple and ritualistic services.
*End*
For media enquiry, please contact Corporate Communication Division of TWGHs on 2859 7453.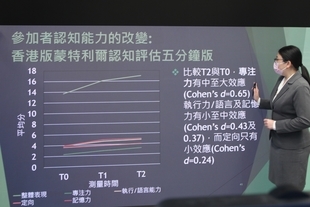 Photo 1: Dr. CHAU Pui Hing, Patsy, Associate Professor, School of Nursing, The Hong Kong University, reported online that the improvement in upper-limb dexterity and cognitive function of "VRehab Generation" participants were observed in the study.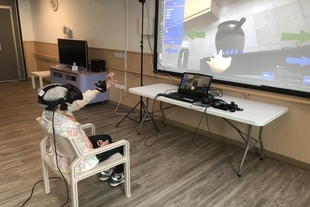 Photo 2: "VRehab Generation" Project developed a set of VR training programme kit, providing service users a close-to-reality training environment.