Youth and Family Services
Tung Wah and University of Hong Kong releases findingsshowing compulsive buyers are more prone to depression and anxiety
The Healthy Budgeting Family Debt Counselling Centre of the Tung Wah Group of Hospitals released the findings of a study on compulsive buying, which was conducted in collaboration with the Department of Social Work and Social Administration of The University of Hong Kong, at a press meeting yesterday.

The number of Bankruptcy Petition issued in Hong Kong stays at around ten thousands per year since 2002. Since the inception of debt counselling services by TWGHs Healthy Budgeting Family Debt Counselling Centre in 2003, the number of cases of indebtedness caused by compulsive buying has constituted 17% of the total number of cases whereas compulsive buyers aged 25 or below has accounted for about 40%. "The problem of compulsive buying not only induces enormous financial pressure but also causes negative effects on mental health, family and social relationship.". The problem of compulsive buying deserves much more attention in our society."

Conducted by means of questionnaires, the study, titled "Understanding the Problem of Compulsive Buying: Antecedents, Consequences and Impacts", has collected data from 1,489 service recipients, university students and local citizens with an aim of examining their buying patterns, habit of credit card using, loans, their psychological condition and family relations. The study revealed that 100 respondents (6.7%) could be classified as "compulsive buyers", 40% male and 60% female, showing a proportion rather different from that in the West - where the majority of compulsive buyers were females. The study grouped these 100 respondents as "compulsive buyers group", and compared them to 100 other respondents randomly selected from the study.

The responsible researcher, Dr. Daniel Fu Keung WONG (Associate Professor of The University of Melbourne, Australia at present), stated that nearly 90% of the members in the "compulsive buyers group" were on loans and tended to have larger loans and borrowed loans repeatedly. Among them, around 20% had loans up to $300,000 or more. Regarding the amount spent in each shopping trip, members from the "compulsive buyers group" tended to pay more on one item then other respondents, and mainly used credit cards for the purchase.

Dr. Wong added that respondents in the "compulsive buyers group" had significantly more dysfunctional beliefs about spending. They tended to believe that buying could bring them happiness and relieve stress. They had difficulties in controlling their buying urges, despite the adverse consequences. In addition, they had more negative communication and unpleasant relationships with their families.

Furthermore, the "compulsive buyers group" had a very high rate of having psychological distress than the non-compulsive counterparts. The most common types were depression and anxiety. The study indicated that mental illness was more likely to appear after the compulsive buying problems and at the same time, 12% of the members in the "compulsive buyers group" had other addiction problems, such as internet addiction and gambling problem. The research also suggested that it is more likely that compulsive buyers had mental illness after engaging in compulsive buying behaviours, but not vice versa.

Ms. LEUNG Tsui-wan, supervisor of TWGHs Healthy Budgeting Family Debt Counselling Centre, said that using cash instead of credit cards to pay for the purchase could reduce temptation and is an effective method to prevent compulsive buyers from falling into loan crisis. To cure the problem thoroughly, she suggested to educate compulsive buyers to learn about the negative impacts of compulsive buying, change their dysfunctional beliefs, and most importantly, seek help as soon as possible when necessary. To help compulsive buyers and their family members handle their debts, psychological and family problems, the Centre has been operating a counselling hotline (tel: 2548 0803) as well as casework and treatment groups.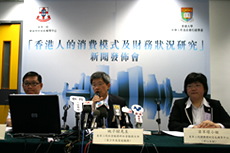 Click here to download this executive summary