Social Enterprises and Social Innovation
The Provision of Project Management Services and Outreach Social Services under Lift Modernisation Subsidy Scheme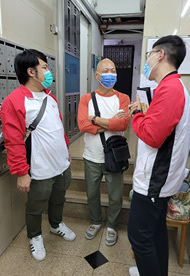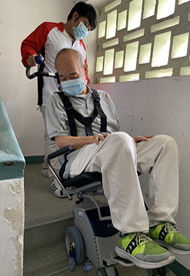 The Government partnered with the Urban Renewal Authority ("URA") to launch the "Lift Modernisation Subsidy Scheme" ("LIMSS") which helps owners to modernise or replace aged lifts of their buildings. Residents living in building served by a single lift or by one lift per floor under LIMSS may face difficulties during lift suspension period. In order to alleviate the difficulties, a series of outreach social services will be provided by Tung Wah Group of Hospitals which has been approved by URA as the project manager and service provider to render the services.
From May 2021 to October 2024
Basic Eligibility Criteria
1.The applicant is residing in a building under LIMSS which lift service is being or will soon be suspended; and
2.The building is either served by a single lift or by one lift per floor; and
3.The applicant encounters difficulties in walking up or down the stairs; and
4.The applicant is aged 60 or above OR is a person with disabilities; and
5.The applicant is lacking in support of family, other carers or community services.
1.Meal Delivery Service: Delivery of hot meals and fresh food packs from our designated service providers to your door.
2.Grocery Delivery Service: Door-to-door delivery of daily necessities.
3.Community Resources Referrals: Referrals to social service organizations to help residents access the services they need.
4.Mobility Assistance Services1: Stair climber service for the needy residents with essential health care need.
5.Temporary Accommodation Service1: Assistance and referrals for residents with acute needs for relocation to temporary accommodations.
6.Service Hotline: General enquiries and ordering hub of all outreach social services for affected residents.
7.Remote Rehabilitation Service: Remote rehabilitative and health services for needy residents to maintain their physical health and social life.
8.Equipment Borrowing Service: Equipment such as rehabilitation aids, health monitor devices, tablets can be borrowed to needy residents.
9.Community Engagement Program: A series of community engagement activities and volunteer services will be arranged.
1: Subject to case assessment and case prioritization due to service limitations.