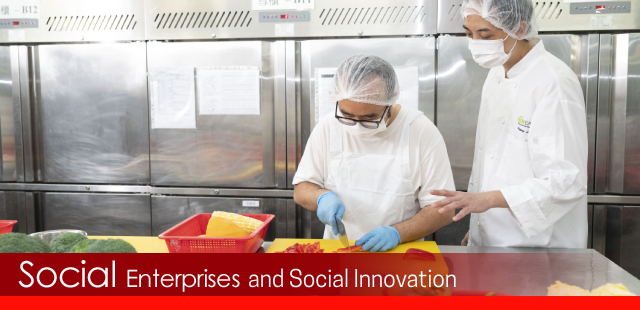 Mission and Vision
Tung Wah Group of Hospitals is committed to promoting the development of social enterprises in recent years. By engaging entrepreneurship and business strategies in setting up different types of social enterprise projects, the socially disadvantaged will be provided with opportunities of vocational training, raising their employability and hence achieving self-reliance and promoting social harmony.
Our Social Enterprises
Over 20 social enterprise units and projects operating under TWGHs currently offer a wide spectrum of services from retailing, catering, bakery, home services, photo and video production, vegetable and fruit processing and supply service to cycling eco-tour. Vocational training and job opportunities are created to the socially disadvantaged including people with disabilities, low income groups, single parents, unemployed adults and youth as well as those with low education background or job skills, to develop their potential to the fullest which in turn would gain them self-confidence and help achieve self-reliance. Profits of running social enterprises will be reinvested in the business to achieve sustainable development of the operation and foster social inclusion as well as building a harmonious society.

Our Social Innovation
Meanwhile, Tung Wah endeavors to tackle social problems through social innovation approach. To help address the housing problem of young people, Tung Wah has renovated and remodelled one of its properties with traditional features and modern design. The first "Fortune Loft" - Youth Co-living Space was launched aiming at encouraging young residents to communicate, exchange views and look after one another. Tung Wah also launched "The Oasis Youth Co-working Space" which provides desks for young entrepreneurs and start-ups with business support services at concessionary rent. It aims to encourage youths to engage in social innovation and social enterprise and to help them pursue their career dreams.