Fong Shu Chuen Day Activity Centre
Residential & Meal Service

The Centre provides 52 residential places with nutritious and wholesome meals.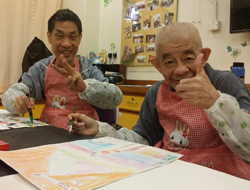 Training on daily living skills
Training programmes include:
Personal Management: training of basic daily living skills

Work: teaching vocational skills and good working attutide

Leisure: organizing recreational activities
Health care service
Health care, regular body checks, medical follow-up, drug administration, visiting medical service, etc., are provided.
Counseling service
Counseling is offered with respect to the social and emotional needs of the trainees.
Family work
The Centre works closely with the families to establish and maintain relationship between trainees and families. Family programmes and activities such as group meetings, forums, individualized programme plan meetings, social gatherings are regularly organized. Home leaves and family visits are encouraged to strengthen family networks.
Physiotherapy and occupational therapy service
Assessment and treatment by physiotherapists and occupational therapists are offered on a referral basis for the trainees to improve their motor functions and independent living skills.


Social and recreational programmes

A variety of social and recreational activities, such as outings, visits, parties, interest groups and community events are organized to encourage participants to spend leisure time meaningfully while enriching life experience.