Jockey Club Tsin Yin Day Activity Centre
Scope of Services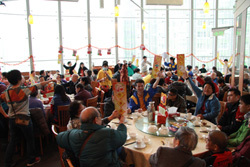 Daily living skills training
Individualized program plans on Personal Management, Work & Leisure are planned under the principles of functional utility, age appropriateness & community integration
Health care service
Professional nursing team provides daily health care, drug administration & skin care. Regular visiting medical service will also be arranged.
Counseling service
Counseling by social workers is offered & referral to clinical psychologist will be made if necessary.
Physiotherapy and occupational therapy
Physiotherapy & occupational-therapy are offered to improve trainees' motor functions & independent living skills
Social and recreational programmes
A variety of social, art & sports activities are organized to enrich life experience
Family work
The D/H works with the families closely through group meetings, forums & individualized program plan meetings
Meal service
The D/H provides accommodation with nutritious & wholesome meals.
Special Service Features
Keep up with the times
To enhance trainees' sense of nationality & awareness to current affairs, "General Knowledge Week" is held monthly & Green Life will be introduced to the trainees in response to environmental & ecology protection.
Innovative
Relatives are encouraged to take care of other trainees who lack family support or have special needs by arranging outside meals or family-like gathering during holidays.